If you want to be a responsible homeowner in Texas, it's essential to understand the basics of residential roofing. While the concept of residential roofing is the same as commercial and industrial applications, the methods, tools, and materials are different. In addition to understanding these things, it's also important to know what type of roof is best for a Texas home. We'll explore all that and much more in the lines to follow. 
What is Residential Roofing
As the name indicates, residential roofing refers to the roofing industry for houses in Texas. In most cases, residential roofing refers to a single-home dwelling or house. Sometimes, it can also refer to duplexes, triplexes, and apartments. However, because apartment complexes are viewed as business structures, they typically get categorized as commercial properties. Regardless of your building type or property, KangaRoof is the roofing company to call for all your roofing needs. We're an industry leader in both commercial and residential roofing. Contact us for a complete list of services and to schedule a consultation.
What are the Four Most Popular Residential Roofing Materials?
The nice thing about residential roofing in Texas is that you have lots of options for roofing materials. In general, however, there are four leading roofing materials, each with different pros and cons.
Asphalt Shingles 
Asphalt shingles are the most popular residential roofing material in Texas. It offers a unique combination of aesthetics, affordability, and durability. Asphalt shingles hold up well under the elements, are UV-resistant, and require little to no maintenance. 
However, while asphalt shingles are relatively durable and can last up to 40 years, they aren't the most durable roofing material available. They also won't hold up as well to high winds, hail, and extreme weather as some of the more heavy-duty roofing materials. 
Metal Panels 
If you're looking for durability without comparison, metal roofing panels are the material for you. Metal panels are made of a variety of different metals and steels that are blended to form the perfect roofing material. When they're light-colored, metal roofs also do a better job of repelling UV rays and heat from the sun, resulting in a cooler home. 
Metal panels also have the added benefit of being available in various colors. This allows you to customize your roof and make it match or stand apart from the rest of your home.
Cedar Shake Shingles 
If you want one of the best-looking and most unique roofing options available, give cedar shake shingles a glance. Cedar shake shingles are made of cedar wood and are treated to withstand UV radiation, rain, and other weather elements. Cedar shingles are surprisingly durable and widely regarded as one of the best-looking residential roofing options. 
However, while cedar shingles get treated to withstand the elements, they are less durable than other roofing options. They also tend to discolor over time and require more maintenance than other residential roofing materials. 
Clay Tiles
Clay tiles are a great option if you want to give your home a classic southwest look. Most commonly available in slate orange or soft red clay tiles will set the tone for the feel and appearance of your home. They go especially great with stucco houses and Mexican-style adobe homes. 
However, while clay tiles are reasonably durable and weather-resistant, they won't last as long as metal panels. They also require ongoing repairs and maintenance, unlike many of the other residential roofing options on this list. 
At KangaRoof, we'll help you choose the best residential roofing material for your home. We'll help you weigh the pros and cons of each material and give you a better idea of how long your roof should last based on your location.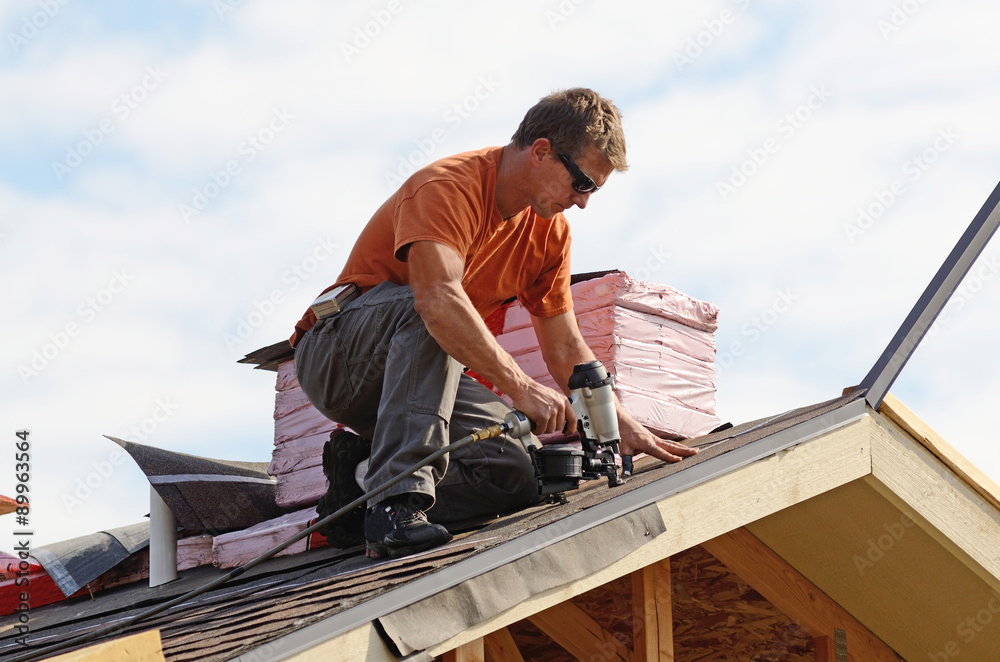 What's the Best Type of Roof in Texas?
While it's entirely up to you which type of residential roofing material you choose, some are certainly better than others. Metal roofs, for example, are often viewed as the best overall roofing material, with asphalt shingles coming in at a close second. Metal roofs simply last longer, look better, are easier to install, require less maintenance, and hold up better under the elements than other roofs. However, metal roofs are also fairly expensive, so make sure they fit your budget before investing in one.
Who to Contact for Residential Roofing Services in Texas
Whether you need residential roofing repairs, maintenance, replacement, or installation, contact us at KangaRoof. We're one of the top residential roofing contractors in the area and have a team of talented, experienced professionals. No job is too big or small for us to handle, and we never leave a client unsatisfied. Contact us for a quote, consultation, or a complete list of services and roofing options.
How can Shreiner's Kanga Roof help you?