Commercial Roof Inspection in Amarillo, TX
If you own a commercial property in Amarillo or anywhere else in Texas, it's important to get your roof inspected on a regular basis. Most experts recommend one roof inspection annually for residential roofs but bi-annual roof inspections for commercial roofs. The reason for this is because commercial roofs are constructed from different materials and designed differently than residential properties. 
If you're wondering if you need a commercial roof inspection, you've come to the right place. This article will explain what exactly a commercial roof inspection is, dig into what it will entail, and let you know some of the best reasons to invest in a commercial roof inspection. We'll also let you know who to contact for the best commercial roof inspection in Texas!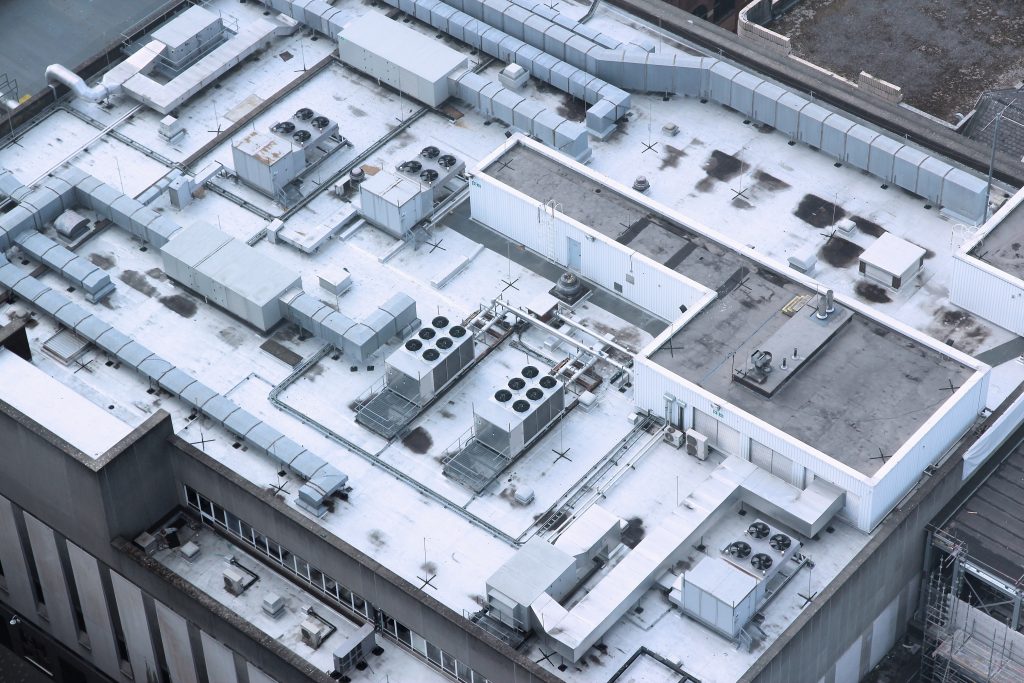 What is a Commercial Roof Inspection? 
As the name implies, a commercial roof inspection is when a professional roofer or building inspector performs an in-depth inspection of a roof on a commercial property. The goal of the inspection is to determine the status and integrity of your roof. The inspector will look for potential problems and risk factors and will also highlight areas that they recommend fixing. Finally, if the roof is in bad enough condition, they may recommend replacing it in favor of a new one. 
What Does a Commercial Roof Inspection Include? 
Because of how important the roof is to your commercial property, commercial roof inspections are fairly in-depth. Here's typically what they will include. 
The Inspection Starts Inside the Building 
While most of the work will take place on the roof, a commercial roofing inspection starts inside the building. The inspector will start by looking for water marks or moisture on ceilings, which indicate a potential roof leak. Next, they will make their way to the attic and examine the roof from the inside. They will also check the status of your roof insulation and let you know if you're lacking in that area. 
Next, Comes the Roof 
After checking the inside of the roof and building, the inspector will proceed to the roof. There, they will make multiple trips back and forth across your roof, keeping their eyes peeled for potential problems, including the following. 
Puddles or pools of water 

Dips or dents in the roof 

Holes or leaks in the substrate layer of the roof 

Missing shingles if applicable 

Blisters or cracks in the roof 

Any other potential problems that could indicate you have roof damage that puts you at risk for a leak
This is the most lengthy and in-depth portion of the inspection, but it's also the most important. In addition to the rooftop, your inspector will also examine the perimeter of the roof, all roof-based accessories, anything sticking through the roof, gutters, flashing, and more. 
Asking Questions About the Roof 
Next, your inspector will ask you a series of questions about the roof. The goal is to determine how old the roof is and if you've ever experienced any issues with it. They may also ask for documents of previous inspections to compare notes. 
Taking Core Samples 
Depending on their findings, your roof inspector may also take a few core samples of your roof. This includes removing a tiny portion of the roof for further inspection. You can rest assured that they'll patch the roof immediately to prevent any leaks, but core samples are the best way to determine how thick your roof is, how many layers there are, and if it's been damaged by moisture. 
Filling Out a Report 
Upon the completion of their inspection, your roof inspector will fill out a comprehensive report listing their findings. This report is for the benefit of the inspector, as they'll keep a copy, as well as your own. You can read the report, ask questions, and address areas of concern. You'll typically receive your report within several days of the inspection. 
Making Appropriate Recommendations 
Also included in the report will be a list of recommended actions from the roofing inspector. They will point out potential problem areas and recommend an appropriate course of action. It's during this portion of the inspection that you'll find out if you need to make roofing repairs, leave your roof as is, or replace it. 
How Much Does a Commercial Roof Inspection Cost? 
The great thing about commercial roof inspections is that they might not cost you a thing! Many roof inspectors in Amarillo and the surrounding area offer complimentary inspections when you pay them for another service. This could include routine maintenance or cleaning or a simple roofing repair. If you opt for a roof inspection alone, it could cost you between $250 and $500. 
Reasons to Get a Commercial Roof Inspection 
It's a good idea to receive a commercial roof inspection once or twice per year, depending on the age of your roof. However, if you aren't on a regular inspection schedule, here are a few of the top reasons to invest in a commercial roof inspection. 
There was a recent rain, snow, or hail storm. 

Your roof is more than 25 years old. 

You want your roofing warranty or insurance to pay for the damage. 

You're worried about a potential leak. 

You recently noticed sagging or drooping sections on the roof. 

A roof inspection can inform you about problems before they can cause any damage. 
Do I Need a Commercial Roof Inspection? 
If you have a roof that's more than 25 years old or are experiencing any of the above issues, you should invest in a commercial roof inspection. There's a good chance that your roof is in need of repairs or a replacement, but the only way to know for sure is if you have it professionally inspected. Contact us if you're considering a commercial roof inspection and want more details about what to expect. 
Who to Contact For a Commercial Roof Inspection in Amarillo 
If you're ready to invest in your commercial property and the safety of your employees, contact us at KangaRoof. We're one of the top residential and commercial roofing companies in Texas. 
We specialize in anything and everything pertaining to commercial roofs, including inspections. When we finish our inspection, we'll give you a complete report with our recommendations. From there, we can perform any necessary repairs and maintenance and even do a full or partial replacement. 
  Shreiner's Kanga Roof
  513 Ross St, 
  Amarillo, TX 79102
  (806) 414-6467
Shreiner's Kanga Roof
513 Ross St
Amarillo, TX 79102
Residential Roofing Services
Commercial Roofing Services
Copyright © 2023 www.kangarooftx.com